You will be placed in the waiting room initially, please be patient.
Phone: (312) 626 6799
Meeting ID: 824 3854 1089
Announcements
Sunday Night Prayer – 5:00 PM.
Thursday Night – Open Table – 5:00 PM.
Friday Meetup – Hybrid @ 6:00 PM.
HANFAN
Giving
(10) "Bring the full tenth into the storehouse so that there may be food in my house. Test me in this way," says the LORD of Armies. "See if I will not open the floodgates of heaven and pour out a blessing for you without measure. (11) "I will rebuke the devourer for you, so that it will not ruin the produce of your land and your vine in your field will not fail to produce fruit," says the LORD of Armies.

– Malachi 3:10-11 CSB
How Can We Better Share Jesus?
Have you ever been in a conversation where you looked for an opportunity to share Christ? As the conversation goes on it seems like it never quite develops so you can share? Last night I had that experience.
I was teaching a couple of classes of Basic Life Support (CPR) in Eau Claire. As I was setting up, an older gentleman checked in mentioning that it was "nice that there were some people who knew how to do CPR" at the hotel. He asked how long we would be around. I said, "About three hours." He did not feel that would be enough for his stay.
Later that night I saw him reading outside as I was packing up. He thanked me for teaching a skill that people could use to help others. He was an avid camper and had come in to stay the night and get a hot shower. He was 75 years old.
"It would be nice when I'm out on a trail to know that the next guy coming along could help." He then told of his son and how he went through wilderness training. I listened to him and looked for an opportunity to bring up the spiritual but didn't quite see how. We said our goodbyes and parted.
While I was driving home, I was talking to the Lord. It occurred to me that I could have easily asked about his concerns with what might happen if he collapsed and there was no "next guy" that could help him. What were his thoughts, what were his fears in that scenario? If we fear death, Jesus brings us assurance of eternal life when we are born again.
After processing this for a bit today I ran into this video that spoke to my prayer.
Christian or Disciple – Is There a Difference?
Christ did not come to make Christians; He came to make disciples…

– Robby Gallaty
Did you know that the word Christian only appears 3 times in the Bible. Twice it is used as a derisive [contempt or ridicule] term.
Disciple appears 238 times in the Gospels. Jesus' plan to expand His kingdom was through disciples.
This wasn't just for His original disciples It was for all that would come to believe in Jesus through them (John 17). I'll get back to this thought in a minute.
As I was trying to relay these thoughts I was asked this question.
If someone asks you if you're a Christian what do you say? No, I am a disciple? Just curious now knowing it was a derogatory term!
I had to apologize for initially talking about the terms.
Sorry if I muddied the waters… and great question! I would probably answer, "Absolutely! What do you believe?"
After all, the definition of Christian is:
CHRISTIAN One who worships Jesus of Nazareth as the Messiah and Son of the God of Israel.

-LBD
The derogatory term was more of a label used by unbelievers. Can you imagine that an atheist might call you a "Christian" in a negative sense?
King Agrippa asked Paul, "Are you going to persuade me to become a Christian so easily?"
On the other hand, a disciple is defined as:
DISCIPLE A student, pupil, or learner. In the New Testament, it is used for Jesus' followers. Often references "the Twelve" but also indicates a wider group of followers. A person became a disciple as he sought out a teacher and followed him and his principles.

-LBD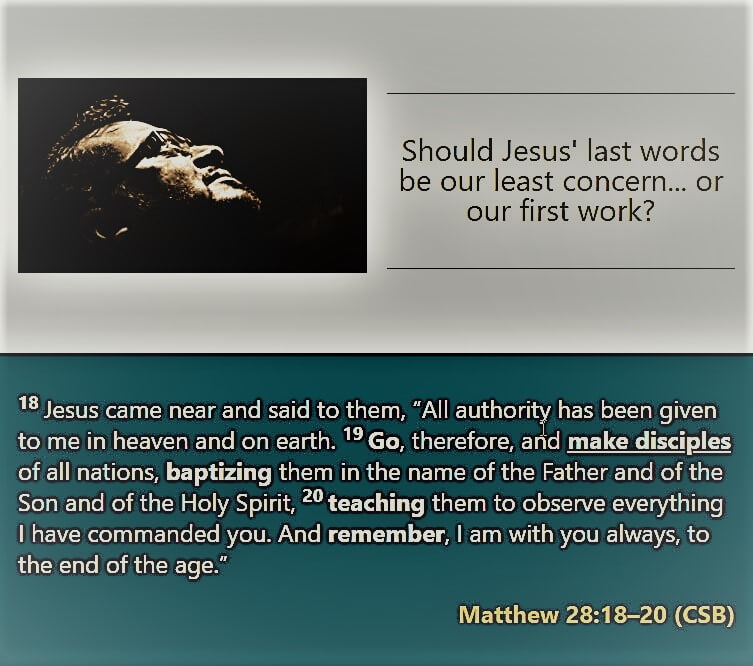 What were Jesus last words to His disciples?
See Matthew 28:18-20 – make disciples of all nations… teaching them to observe (obey) everything I have commanded you…
He was asking them not only to follow Him and His principles, but to teach others to do the same.
Back to John 17 where Jesus was praying for His disciples.
(14) "I have given them your word. The world hated them because they are not of the world, just as I am not of the world. (15) "I am not praying that you take them out of the world but that you protect them from the evil one. (16) "They are not of the world, just as I am not of the world. (17) "Sanctify them by the truth; your word is truth. (18) "As you sent me into the world, I also have sent them into the world. (19) "I sanctify myself for them, so that they also may be sanctified by the truth. (20) "I pray not only for these, but also for those who believe in me through their word. (21) "May they all be one, as you, Father, are in me and I am in you. May they also be in us, so that the world may believe you sent me. (22) "I have given them the glory you have given me, so that they may be one as we are one. (23) "I am in them and you are in me, so that they may be made completely one, that the world may know you have sent me and have loved them as you have loved me.

– John 17:14-23 CSB
If you are a disciple of Jesus, He was praying for you (John 17:20).
If you are a disciple of Jesus you have the same mission, the same purpose that Jesus had (John 17:18; John 3:16-17; 1 John 3:8).
If you are a disciple of Jesus you need the same empowerment that Jesus had (Luke 3:21-22, 4:1; Acts 1:8).
If you are a disciple of Jesus you must abide and become one with the Body of Christ and with the Godhead, the Trinity (John 17:21-23).
If you are a disciple of Jesus you must be baptized in The Holy Spirit. He is our connection to the very presence of God. He gives us what to say at the moment. He empowers us to do the works of God on the earth.
Let me be clear – Jesus wants to use you to make more disciple makers (2 Timothy 2:2).
(2) What you have heard from me in the presence of many witnesses, commit to faithful men who will be able to teach others also.

– 2 Timothy 2:2 CSB
Disciples are learners of Jesus. The first mention of disciple is in Matthew 5.
We see the disciples coming to Jesus to learn from Him. He begins to teach them about how things are to be in His kingdom.
He outlines this for 3 chapters. He teaches them how to live in God's way. Not just in the instruction, but as they walked day by day with Him. He did this by living with them life on life, life in community, and life on mission.
These 3 chapters are called the Sermon on the Mount. Do you know what it teaches? Are you able to relay it to others?
The goal of the disciple is to become more and more like Jesus and help others come on this journey to know and become like Jesus. This replication, generation after generation, is God's plan to build His kingdom.
I want to invite you to come and join the journey.
In Matthew 5 we see the disciples coming to Jesus. After all He had the words of Life. Then we see Jesus begin to teach them in Matthew 5-7.
(1) When he saw the crowds, he went up on the mountain, and after he sat down, his disciples came to him.
(2) Then he began to teach them, saying:

(3) "Blessed are the poor in spirit, for the kingdom of heaven is theirs.
(4) "Blessed are those who mourn, for they will be comforted.
(5) "Blessed are the humble, for they will inherit the earth.
(6) "Blessed are those who hunger and thirst for righteousness, for they will be filled.
(7) "Blessed are the merciful, for they will be shown mercy.
(8) "Blessed are the pure in heart, for they will see God.
(9) "Blessed are the peacemakers, for they will be called sons of God.
(10) "Blessed are those who are persecuted because of righteousness, for the kingdom of heaven is theirs.

– Matthew 5:1-10 CSB