You will be placed in the waiting room initially, please be patient.
Phone: (312) 626 6799
Meeting ID: 824 3854 1089
Announcements
Meetings
Sunday Night Prayer – 5:00 PM.
Thursday Night Bible Study – Hybrid @ 6:00 PM.
Friday Meetup – Hybrid @ 6:00 PM.
2021 Q1 Business Meeting after service.
Mask Use
We continue using the 3 Ws (Wash hands, Wear a mask, and Watch distance 6-ft).
Tithes and Offerings
You can give in several ways:
There is an Offering button in the giving section below as well as on the Home Page upper left corner.
You can also mail your gifts to LSF – PO Box 103 – Warrens, WI 54666
Memory Section – Matthew 6:9-15 (CSB)
The Model Prayer
9 "Therefore, you should pray like this:
Our Father in heaven,
your name be honored as holy.
10 Your kingdom come.
Your will be done
11 on earth as it is in heaven.
Give us today our daily bread.
12 And forgive us our debts,
as we also have forgiven our debtors.
13 And do not bring us into temptation,
but deliver us from the evil one.
14 "For if you forgive others their offenses, your heavenly Father will forgive you as well. 15 But if you don't forgive others, your Father will not forgive your offenses.
Giving
(10) "Bring the full tenth into the storehouse so that there may be food in my house. Test me in this way," says the LORD of Armies. "See if I will not open the floodgates of heaven and pour out a blessing for you without measure. (11) "I will rebuke the devourer for you, so that it will not ruin the produce of your land and your vine in your field will not fail to produce fruit," says the LORD of Armies.

– Malachi 3:10-11 CSB
Check In
How did you become more missional in your Proclamation and Demonstration this last week?
This might look like:
Attending a church service and checking in with other believers.
Going to another person's house or inviting them to yours and sharing what you are learning.
Practice our listening skills and gospel fluency in these conversations.
Minister to our brothers and sisters through fellowship and prayer.
Share the gospel
Serve
Here Is How You Can Grow In Love For Jesus
The Ministry and Message of Reconciliation.
Reconcile others to God
Baptize them into the Body of Christ

Teach them everything Jesus commanded

Train and equip them to be like Jesus
Do the works of God
Let Not Your Heart Be Troubled…
IF YOU LOVE ME KEEP MY COMMANDS

– John 14:15
REPENT — MATTHEW 4:17; LUKE 13:3 • LET NOT YOUR HEART BE TROUBLED — JOHN 14:27; JOHN 16:33; MATTHEW 6:25-26; • PHILIPPIANS 4:6-7 • FOLLOW ME — MATTHEW 4:19 • REJOICE — MATTHEW 5:12 (ALSO 2 CORINTHIANS 6:10; 12:10; JAMES 1:2-4) • LET YOUR LIGHT SHINE — MATTHEW 5:16 • HONOR GOD'S LAW – MATTHEW 5:17-19 • BE RECONCILED -MATTHEW 5:24-25 • DO NOT COMMIT ADULTERY — MATTHEW 5:27-30 • KEEP YOUR WORD —MATTHEW 5:33-37 • GO THE SECOND MILE — MATTHEW 5:38-42 • LOVE YOUR ENEMIES —MATTHEW 5:44 • BE PERFECT- MATTHEW 5:48 • PRACTICE SECRET DISCIPLINES (GIVING, PRAYING, FASTING) — MATTHEW 6:1-18 • LAY UP TREASURES IN HEAVEN – MATTHEW 6:19-21 • SEEK FIRST THE KINGDOM OF GOD — MATTHEW 6:33 • JUDGE NOT- MATTHEW 7:1-2 • DO NOT THROW YOUR PEARLS TO PIGS — MATTHEW 7:6 • ASK, SEEK, AND KNOCK- MATTHEW 7:7-8 • DO UNTO OTHERS — MATTHEW 7:12 • CHOOSE THE NARROW WAY — MATTHEW 7:13-14 • BEWARE OF FALSE PROPHETS – MATTHEW 7:15 • PRAY FOR THOSE WHO SPREAD THE WORD -MATTHEW 9:37-38 • BE AS SHREWD AS SERPENTS – MATTHEW 10:16 (ALSO ROMANS 16:19) • FEAR GOD. DO NOT FEAR MAN – MATTHEW 10:28 (ALSO LUKE 12:4-5) • LISTEN TO GOD'S VOICE — MATTHEW 11:15; 13:9; 13:43; MARK 4:23; LUKE 14:35; 1 KINGS 19:11-13 • TAKE MY YOKE — MATTHEW 11:29 • HONOR YOUR PARENTS – MATTHEW 15:42 • BEWARE OF FALSE TEACHING — MATTHEW 16:6,11-12 • DENY YOURSELF — LUKE 9:23 (ALSO MATTHEW 10:38 AND MARK 8:34) • DO NOT DESPISE LITTLE ONES – MATTHEW 18:10 • GO TO CHRISTIANS WHO OFFEND YOU — MATTHEW 18:15 (ALSO GALATIANS 6:1) • FORGIVE OFFENDERS – MATTHEW 18:21-22 (ALSO PROVERBS 19:11) • BEWARE OF COVETOUSNESS — LUKE 12:15 • HONOR MARRIAGE —MATTHEW 19:6; 19:9 • LEAD BY BEING A SERVANT — MATTHEW 20:26-28 • MAKE THE CHURCH A HOUSE OF PRAYER FOR ALL NATIONS – MARK 11:17 • PRAY IN FAITH – MATTHEW 21:21-22; JOHN 15:7 • BRING IN THE POOR — LUKE 14:12-14 RENDER UNTO CAESAR – MATTHEW 22:19-21 • LOVE THE LORD — MATTHEW 22:37-38 • LOVE YOUR NEIGHBOR — MATTHEW 22:39 • BE BORN AGAIN — JOHN 3:7 • AWAIT MY RETURN – MATTHEW 24:42-44 • CELEBRATE THE LORD'S SUPPER — MATTHEW 26:26-27 • WATCH AND PRAY — MATTHEW 26:41 • KEEP MY COMMANDMENTS — JOHN 14:15 • FEED MY SHEEP — JOHN 21:15-16 • MAKE AND BAPTIZE DISCIPLES — MATTHEW 28:19 • TEACH DISCIPLES TO OBEY – MATTHEW 28:20 RECEIVE GOD'S POWER – LUKE 24:49
Believe – Have Faith
The Law of First Mention is a principle of Bible study. The first mention of the word is studied within the context of the passage. What is then learned about the word should be remembered as you encounter it later in Scripture.
Did you know that the word faith/faithfulness is derived from the Hebrew word אֱמוּנָה (a-moo-nah')?
You can see below that it means steady, steadfastness, trustworthiness, honesty, and (permanent) official duty.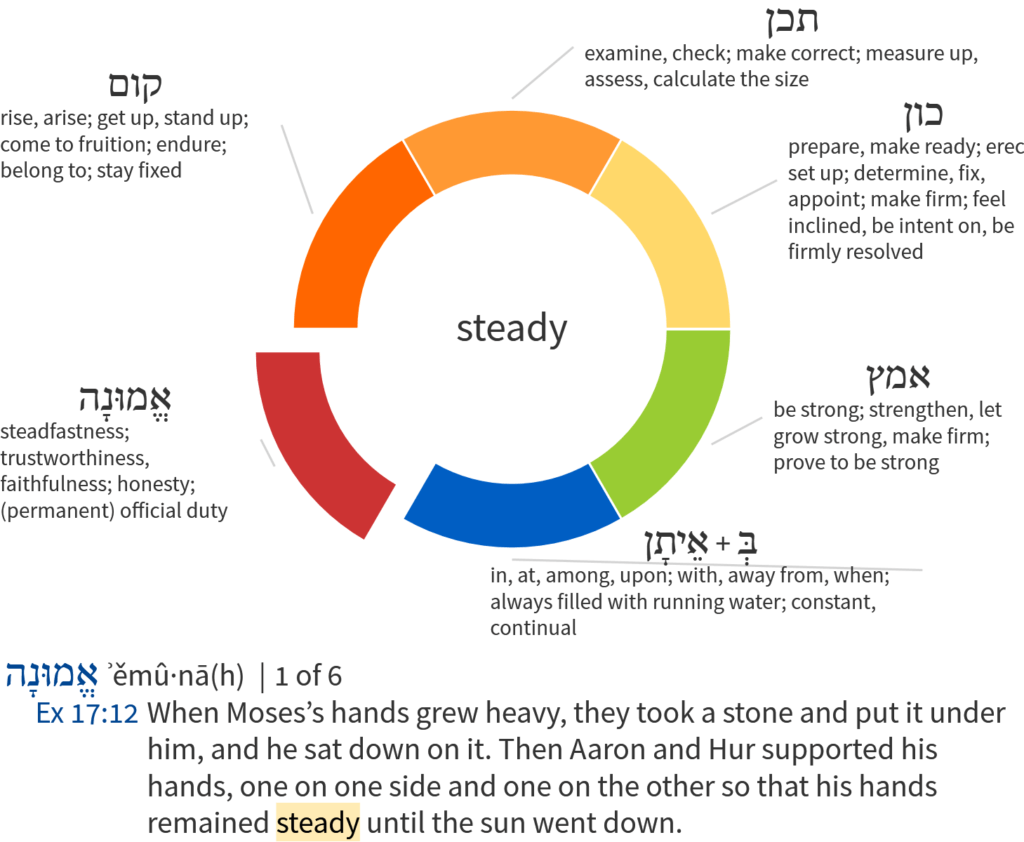 It is interesting to note the first time this term is used is when Joshua was leading Israel against the Amalekites. When Moses raised his hands Israel prevailed. But when his hands lowered Amalek prevailed.
Aaron and Hur came alongside Moses to help him remain steady. This duty that Moses had to execute could not be done alone. He needed others to help him stay steadfast through the battle.
How has our Friday night experiment been working for you? Have you become more missional?
Have you been doing it on your own? What would happen if you would team up with another and intentionally go out to be used by God?
You are not going to be able to stand and execute your duty as a Frontline Warrior by yourself. There was a reason Jesus sent the disciples together.
(48) "Be perfect, therefore, as your heavenly Father is perfect.

– Matthew 5:48 CSB
Look at the references above. Just as God is faithful, we are to be faithful. How often is God faithful?
In case you are wondering, it is all the time. Are you faithful all the time?
What would increase your ability to be more intentional?
What do you need to fulfill your destiny, your ministry?
2021 Q1 Meeting Agenda
Secretary & Treasurer Reports
Election of Officers
Approval of Housing Allowance
After Action Review of Friday Night Meetup
Quarterly Review and Forecast of Committee Plans
Prayer

There is a tremendous weapon God has given us which is powerful enough to penetrate into the spirit, break through enemy territory, bind the power of the enemy, and destroy Satan's strongholds. That weapon is prayer!

—Morris Cerullo
Prayer Watch for Christ's Body and His Return.
Matthew 26:40-41 (CSB)
40 Then he came to the disciples and found them sleeping. He asked Peter, "So, couldn't you stay awake with me one hour?
41 Stay awake and pray, so that you won't enter into temptation. The spirit is willing, but the flesh is weak."
Pray for all men, for the Government, and for the peace of Jerusalem. Father, in the name of Jesus we ask forgiveness for sin, that you may use us for your will.
Father meet the spiritual, physical and financial needs of each FAMILY, MISSIONARY, and FRIEND of the Fellowship – In Jesus name…

… Therefore, pray to the Lord of the harvest to send out workers into his harvest.

– Luke 10:2 CSB
Send Out
How will you become more missional in your Proclamation and Demonstration this week?
This might look like:
Attending a church service and checking in with other believers.
Going to another person's house or inviting them to yours and sharing what you are learning.
Practice our listening skills and gospel fluency in these conversations.
Minister to our brothers and sisters through fellowship and prayer.
Share the gospel
Serve