You will be placed in the waiting room initially, please be patient.
Phone: (312) 626 6799
Meeting ID: 824 3854 1089
Announcements
Sunday Night Prayer – 5:00 PM.
Thursday Night – Open Table – 5:00 PM.
Friday Meetup – Hybrid @ 6:00 PM.
Quarterly Business Meetings – 4/11, 7/11, 10/10, 1/9/2022
Good Friday
It is Good Friday! It is a tragic yet triumphant day. It is the day that Jesus, the Son of God and the Son of Man put God's plan for the rescue and restoration of all creation into play and finished the work. He planted the seed that would die and then grow into the kingdom of God. He is making all things new.
As we prepare to remember some scenes that lead to Christ's crucifixion, let us worship as the family of believers. Not with the formality of religion, but in love and forgiveness and brokenness…
We have a little bit different format today. We will have a time of sitting with each other at the table. It was at the table that Jesus was sitting with His disciples eating Passover with them. As they had the meal He revealed the new covenant that His blood would provide.
Let's all sit at the table…
How Could You Say No?
The Upper Room – The Last Supper
Jesus has paid for our freedom with His own life…
Can you imagine the talk that was going on around the table? They were having a meal. I imagine they had a pattern like we do, several meals a day.
They could talk about how the day went. There must have been questions that the disciples had for Jesus. I'm sure they wanted explanations for the things he did.
Remember how they found this room in the first place? He told them what would happen to find the room, and it happened just as He said.
We will break bread tonight and remember this new covenant that Jesus provided for humanity in His own blood.
Before you are matzah bread. It is kind of like a cracker or chip. I did get some hummus as well. It seemed like they had it with most meals when we were in Israel.
Go ahead and break off a small piece to save for communion. Feel free to try out the rest as we listen to this song about the last supper. Remember what Jesus has done for you.
(14) When the hour came, he reclined at the table, and the apostles with him. (15) Then he said to them, "I have fervently desired to eat this Passover with you before I suffer. (16) "For I tell you, I will not eat it again until it is fulfilled in the kingdom of God." (17) Then he took a cup, and after giving thanks, he said, "Take this and share it among yourselves. (18) "For I tell you, from now on I will not drink of the fruit of the vine until the kingdom of God comes." (19) And he took bread, gave thanks, broke it, gave it to them, and said, "This is my body, which is given for you. Do this in remembrance of me." (20) In the same way he also took the cup after supper and said, "This cup is the new covenant in my blood, which is poured out for you. (21) "But look, the hand of the one betraying me is at the table with me. (22) "For the Son of Man will go away as it has been determined, but woe to that man by whom he is betrayed! " (23) So they began to argue among themselves which of them it could be who was going to do it.

– Luke 22:14-23 CSB
Think how you broke the matzah. None of us are guiltless in the need for Christ to allow His body to be broken. It was necessary so He could set us free.
Father forgive us for choosing our own way and ignoring Your call.
The cup of the vine. Jesus made the cup symbolic of the new covenant He purchased with His own blood.
Father thank you for the cleansing work of Christ's blood for those who would believe and confess Jesus as Lord. We remember all that You have done. Thank You for saving, delivering, and making us new. We will occupy until You return.
Gethsemane – A Place of Prayer
This is a garden near the Mount of Olives. It is across from the Temple Mount. As you look across the Kidron Valley you can see the Dome of the Rock.
This garden is called by name in both Matthew and Mark. It is the place that Jesus and the disciple went after the Last Supper, the last Passover meal Jesus had on earth.
Here Jesus pulled Peter, James, and John aside to pray as He sought the Father's will. He was coming to the culmination of His mission to seek and save the lost. He understood what He must suffer and was struggling in His humanity for what His divinity demanded.
He would be the perfect lamb and sacrifice Himself for all of humanity.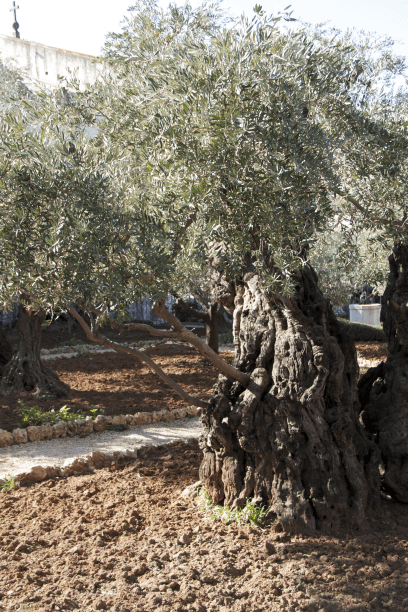 (39) He went out and made his way as usual to the Mount of Olives, and the disciples followed him. (40) When he reached the place, he told them, "Pray that you may not fall into temptation." (41) Then he withdrew from them about a stone's throw, knelt down, and began to pray, (42) "Father, if you are willing, take this cup away from me ​– ​nevertheless, not my will, but yours, be done." (43) Then an angel from heaven appeared to him, strengthening him. (44) Being in anguish, he prayed more fervently, and his sweat became like drops of blood falling to the ground. (45) When he got up from prayer and came to the disciples, he found them sleeping, exhausted from their grief. (46) "Why are you sleeping? " he asked them. "Get up and pray, so that you won't fall into temptation."

– Luke 22:39-46 CSB
How many times do we fall asleep when we should be intentional. How many times do we choose not to yield our will and life to the Father?
Judas betrays Jesus in the garden and Christ is taken prisoner, scourged, and tried. The crowd has an opportunity to let Jesus go free, but instead set a murderer free.
All of this leads to Christ's crucifixion. He is hung between two thieves. He is mocked by them and the crowd. Listen to the abuse.
Golgotha – The Crucifixion
(45) From noon until three in the afternoon darkness came over the whole land. (46) About three in the afternoon Jesus cried out with a loud voice, "Elí, Elí, lemá sabachtháni ? " that is, "My God, my God, why have you abandoned me ?" (47) When some of those standing there heard this, they said, "He's calling for Elijah." (48) Immediately one of them ran and got a sponge, filled it with sour wine, put it on a stick, and offered him a drink. (49) But the rest said, "Let's see if Elijah comes to save him." (50) But Jesus cried out again with a loud voice and gave up his spirit. (51) Suddenly, the curtain of the sanctuary was torn in two from top to bottom, the earth quaked, and the rocks were split. (52) The tombs were also opened and many bodies of the saints who had fallen asleep were raised. (53) And they came out of the tombs after his resurrection, entered the holy city, and appeared to many. (54) When the centurion and those with him, who were keeping watch over Jesus, saw the earthquake and the things that had happened, they were terrified and said, "Truly this man was the Son of God! " (55) Many women who had followed Jesus from Galilee and looked after him were there, watching from a distance. (56) Among them were Mary Magdalene, Mary the mother of James and Joseph, and the mother of Zebedee's sons.

– Matthew 27:45-56 CSB
Jerusalem – The Feast of Passover
Many at the crucifixion weren't calling for Jesus' death. They stood in unbelief as it took place. Others who had traveled to Jerusalem weren't sure what was happening.
Passover was one of three feasts where the men were to travel to Jerusalem to offer a sacrifice. Many would bring money to exchange because it was easier to make the trip without livestock. As we are come to worship in a similar fashion we bring tithes and offerings understanding that God is our provider.
Giving
(10) "Bring the full tenth into the storehouse so that there may be food in my house. Test me in this way," says the LORD of Armies. "See if I will not open the floodgates of heaven and pour out a blessing for you without measure. (11) "I will rebuke the devourer for you, so that it will not ruin the produce of your land and your vine in your field will not fail to produce fruit," says the LORD of Armies.

– Malachi 3:10-11 CSB
Watch the Lamb
Because He Loves Us So
Jesus could have come down from the cross. No one took His life. He gave it willingly. Why? To fulfill the will of the Father and complete the work to bring rescue and restoration to all of humanity.
At the Cross
The cross is where we come. It is a crossroad where we have to make the decision of who we are going to live for. Jesus has made the way to the Father. He has torn the veil that separated humanity from God. Jesus is the way.
Today have you entered into the Father's presence? Have you received His love and forgiveness? Have you entered into His peace, joy, and love? If not, what are you waiting for?