Announcements
Meetings
Sunday Morning – 10:00 AM.
Sunday Night – 5:00 PM.
Thursday Night Bible Study – Hybrid @ 6:00 PM.
Tithes and Offerings
You can give in several ways:
There is an Offering button in the giving section below as well as on the Home Page upper left corner.
You can also mail your gifts to LSF – PO Box 103 – Warrens, WI 54666
Memory Section – Matthew 6:1-4 (CSB)
How to Give
1 "Be careful not to practice your righteousness in front of others to be seen by them. Otherwise, you have no reward with your Father in heaven. 2 So whenever you give to the poor, don't sound a trumpet before you, as the hypocrites do in the synagogues and on the streets, to be applauded by people. Truly I tell you, they have their reward. 3 But when you give to the poor, don't let your left hand know what your right hand is doing, 4 so that your giving may be in secret. And your Father who sees in secret will reward you.
Giving
(38) "Give, and it will be given to you; a good measure ​– ​pressed down, shaken together, and running over ​– ​will be poured into your lap. For with the measure you use, it will be measured back to you."

– Luke 6:38 CSB
Frontline Warriors
Vision
Here's what I want us to do… (words of prophesy bolded)
Shift our weekly meeting from Sunday morning to Friday evening.
Shift our focus to becoming more missional.
Equip the Body of Christ for ministry and warfare.
Change up our approach to move from consumerism to missional living.
Here's why…
Our mission is to Build Up the Body of Christ.
This includes those that believe and those about to.
Friday nights allow believers from other churches to participate.
This opens Sundays to be missional, applying what we have learned.
It has the potential to create opportunities for us to work together with the larger Body of Christ in Warrens for Warrens.
Our culture is changing, and we need to allow God to teach us how to walk in His way in the changing context (New thing – walk in what I teach).
Here's what it will take…
The commitment of the members to meet on Friday evenings (move to Friday, He'll meet us)..
The commitment of the members to become more missional by:

Attending another local church on Sunday with conversations on Friday's topic to gain insight.
Going to another person's house or inviting them to yours and sharing what we covered to gain insight.
Through these conversations, we can practice our listening skills and gospel fluency.
As opportunity arises we can minister to our brothers and sisters.

Learning to live in the presence of God.
As we move, He meets us. – (20) And they went out and preached everywhere, while the Lord worked with them and confirmed the word by the accompanying signs.] – Mark 16:20 CSB
He will confirm with signs, wonders, and miracles.
Move out and gather the scattered sheep.
Support team for the mission of serving the Body of Christ (others [hungry] will join in we don't know of)
Darin this is what you are called to do.
This is My deal.
History –

WorshipMob visit – enter God's presence on Friday nights.
Sensing a change in the structure of the Church for over a decade.
Results
Here are the milestones…
Shift Sunday to Friday the first Friday of November. [11/6/2020]
After Action Review at QBM for Q1 2021. [12/18/2020]
Here's what we should see…
We are more missional in our walk.
We are increasing our ministry with other believers in Warrens.
We see God move.
Responses to – What is the Gospel?
Gospels are the Birth, Life, Death, and Resurrection of the Lord. All accounted for by Matthew, Mark, Luke, and John
The word of God, spoken through men.. which was recorded for all of us to study & revere throughout history.
The gospel is that all people are

sinners

in

need

of

a Savior

and God has put in place a

plan

that accomplishes that through the work of Christ.
God is love.
The

Good News of Jesus

.
The Torah
The Gospel started "In The Beginning", it's the story of US, God's children. Showing His forever Love for us, our failures, struggles, battles, rebellion, and His forgiveness. It is guided and leading to His Son Jesus Christ. It is a tapestry of all our lives woven thru True stories pointing us to forever living with Jesus in a home being prepared in Heaven.
The Gospel is the accounts of the life of Jesus Christ, by his closest followers Mark, Luke, John, and Matthew.
Gospel means "

good news

". I think that you can make arguments that certain things are or aren't really part of the gospel, but what is the most fundamental part of the gospel? Seems to me it is,

Jesus died so that you can be forgiven of your sins and spend eternity with God

, and ALL you need to do to have this forgiveness is believe it. That is the

good news

. Some people say that first, you must tell people they are sinners and need forgiveness in order for you to see it as good news, so that is part of the gospel. I think it's true that people need to know that, but if an individual already knows that about themselves, then that part isn't necessary to share the good news with that person.
The climax in the story of God
The word gospel actually means good news so I would say it is

the redemption story of Jesus

. It shares the good news of

what Jesus did to save us from eternal separation from him

God sent his only son Jesus Christ to earth. Because he loves us so much,

He died on the cross for our sins so we could be forgiven

.

God wants to have a relationship with each of us

. He is a God of love joy and peace. God asks that you invite him into your heart ask for forgiveness and repent. The gift of salvation is spending eternity in heaven.
The gospel is the

good news

. I guess I'm not sure how else to describe the good word of the lord
The word of the Lord
It's the

good news

. It's

Jesus saving us if we accept him

It is the

good news

of our salvation that Jesus became man died and rose again to save us from our sin and make us real members of his mystical body that incorporated into his mystical body we get taken up into the inner life and love of the trinity itself who is a common of life and love. The gospel is also Jesus Christ. He is the word of God. The bible is called the words of God precisely because it is revelation by the word or the second person of the trinity.

God's plan to redeem us through Jesus Christ and to show us how to live purposely

The story/message of the life and purpose of Jesus Christ. A message of forgiveness, hope, healing,

reconciliation with God

, perfect love, true joy, and peace… this was my attempt at a short answer which barely seems adequate.
God made a way to fix the relationship he once had with the human race.

He sent Jesus his only son to die in my place to fix our sin problem and to gain back the relationship he longed for

.
What is the Gospel? – The Purpose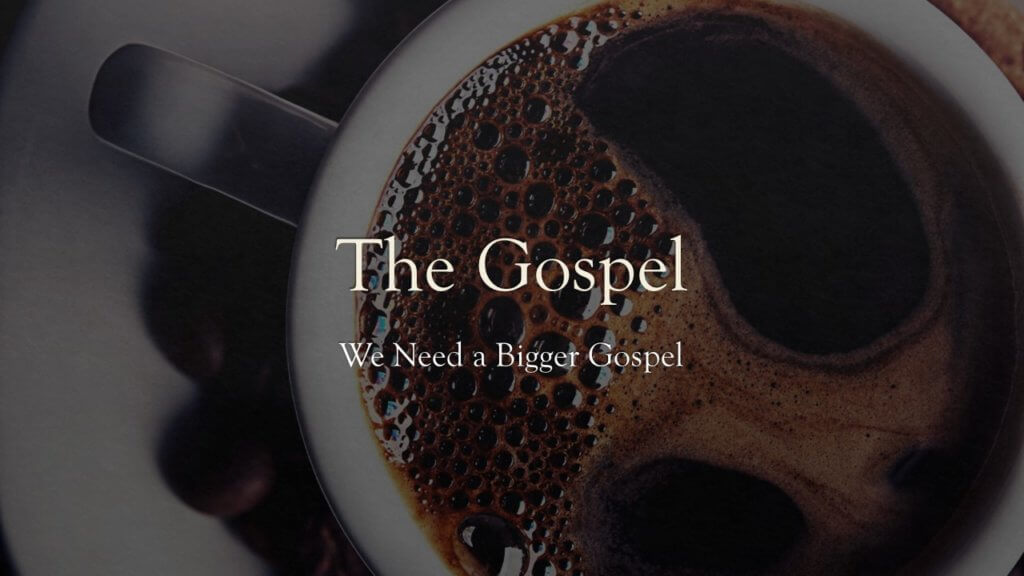 The gospel is that God himself has come to rescue and renew creation in and through the work of Jesus Christ on our behalf.

– Tim Keller
Handles for the Gospel
01
The Power of the Gospel

Shows us how we are saved.

Saved from Sin

Romans 1:16-17, 3:23, 6:23, 10:9-10
02
The Purpose of the Gospel

Shows us why we are saved.

Saved for the Ministry of Reconciliation and to Serve.

2 Corinthians 5:17-20, Ephesians 2:10
03
The Plan of the Gospel

Shows us how to walk out our purpose.

Minister by Proclamation and Demonstration

… Disciples Who Make Disciple Makers

Matthew 28:19-20, 2 Timothy 2:2
Last time we looked at the Power of the Gospel. We have been freed from the power of sin. This is good news!
The Good News Gets Even Better
We have been saved from the penalty of sin.
We are being saved from the power of sin.
We are going to be saved from the very presence of sin.
We have been saved from the power of sin and unbelief.
But even better, we have been saved for something. But what have we been saved for?
The Purpose of the Gospel
(17) Therefore, if anyone is in Christ, he is a new creation; the old has passed away, and see, the new has come! (18) Everything is from God, who has reconciled us to himself through Christ and has given us the ministry of reconciliation. (19) That is, in Christ, God was reconciling the world to himself, not counting their trespasses against them, and he has committed the message of reconciliation to us.

(20) Therefore, we are ambassadors for Christ, since God is making his appeal through us. We plead on Christ's behalf: "Be reconciled to God."

– 2 Corinthians 5:17-20 CSB
Why are we saved? The purpose of the gospel shows us the reason.
It's not just about me. It's not just about you. It is about humanity being reconciled to God.
We are to take this message to those in our sphere of activity. Each of us should be looking for opportunities to share Jesus and His good news with others.
(10) For we are his workmanship, created in Christ Jesus for good works, which God prepared ahead of time for us to do.

– Ephesians 2:10 CSB
We were created for this purpose. We are His workmanship. God has already prepared the moments to do His work ahead of time.
Where we looked at the power of the gospel topically, we look at the purpose of the gospel on a timeline.
It is the story of Scripture. The true story. The movements to the story are Creation, Fall, Redemption, and Restoration.
Isn't it funny that God's story has all the components of the stories we love? Take some of the books or movies that you can relate to and enjoy. Can you see these same movements?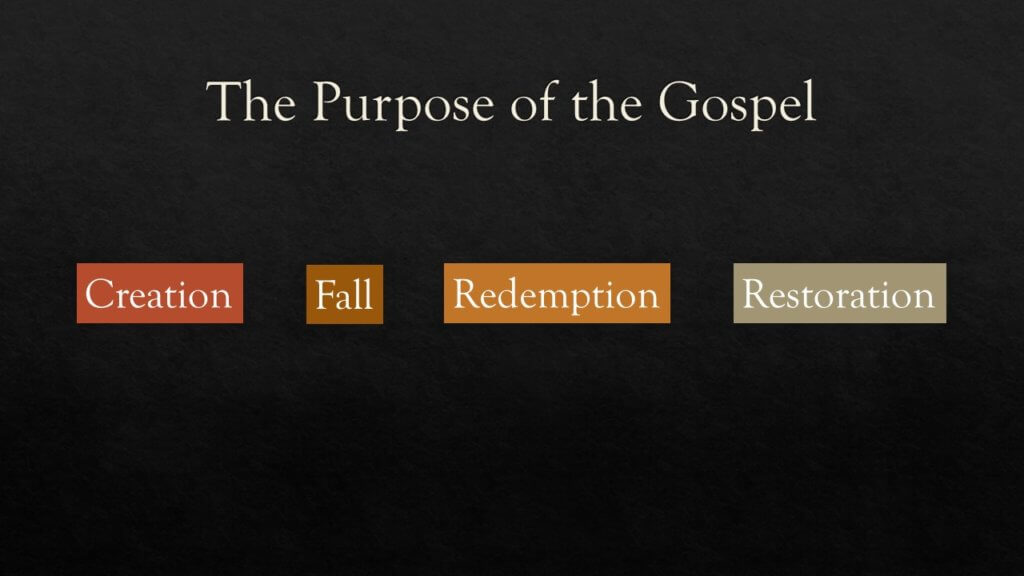 Let's take a look at these movements and see what God does.
Creation
God creates the universe.
He creates the earth to sustain life.
He creates all that is in it.
He creates man in His likeness.
We are given dominion and authority over the earth.
We are in partnership with God to help rule creation.
And God says, "it is very good."
Fall
The fall is about man trying to create an identity of self, apart from God.
Instead of doing God's work, they wanted to do their own thing.
They wanted to manage the knowledge of good and bad for themselves.
They disobeyed God and took from the tree that was forbidden to be like God (their own god).
Rebellion, disobedience, wanting to rule ourselves separate from God, that is what sin is.
And with sin came death.
Redemption
God Himself sent Jesus to redeem man and the earth.
Redeem – exchange one thing for another.
Jesus exchanged His life for ours. He took our sins upon Himself and gave us His righteousness.
It is by grace we have been saved through faith.
Through this new birth, we have a restored relationship with the Father.
We are transferred into the kingdom of His Son.
Once again we enter into a partnership with God to fill the earth with His glory.
Restoration
Jesus is going to restore all things. Revelation 21-22
This is the purpose of God to restore all things to His original intent
We see He creates a new heaven and earth and dwells with His people.
(14) For the earth will be filled with the knowledge of the LORD's glory, as the water covers the sea.

– Habakkuk 2:14 CSB
The purpose of the Gospel is to bring about the restoration of all things.
God's relationship with humans – restored to those who believe.
The earth restored and made new.
God once again dwelling with His people on the earth.
All of this is in process. How do we fit into all of this? We will look at this in The Plan of the Gospel.
Activity
The Power of the Gospel shows us how we are saved (Romans 1:16-17 CSB). It sets us free from sin: past, present, and future.
The Purpose of the Gospel is what we were saved for.
In light of the Gospel, what were you saved for?
Ask 1-3 people this week and post your findings in the comments below.