Announcements
Meetings
Sunday Morning – 10:00 AM.
Sunday Night – 5:00 PM.
Thursday Night Bible Study – Hybrid @ 7:00 PM.
Clean up day – A Big THANK YOU! to everyone.
Elder & Deacon Meeting – 9/14/2020 @ 9:00 AM.
QBM – 9/27/2020 after service. Please submit agenda items.
Fasting – 9/14, 9/21, 9/28
Days of Awe – 9/18/20 – 9/28/20 – Repentance
The Return – 9/26/20 – Simulcast from Washington D.C.
Day of Atonement – 9/28/20
The Return – A Season of Repentance
Let us set aside the Days of Awe as 10 days of prayer.
These TEN anointed DAYS OF PRAYER will be your time of:
1) Spiritual refreshing and encouragement
2) Fresh revelation from "thus saith the Lord"
3) New consecration and dedication
4) Spiritual preparation to open new doors
5) Supernatural strength and power
6) Divine visitations and connections
7) Spiritual breakthrough
8) Holiness and intimacy with God
9) Miraculous healing for you
10) An outpouring of God's abundant harvest!
Missions
Ricardo
Stanley

Request for funds for building project
School fees
Tithes and Offerings
You can give in several ways:
There is an Offering button in the giving section below as well as on the Home Page upper left corner.
You can also mail your gifts to LSF – PO Box 103 – Warrens, WI 54666
Quarterly Business Meeting – 2020 Q3 – Follow Up
Closet items are moved back in.
Giving
Malachi 3:10–12 (CSB)
10 Bring the full tenth into the storehouse so that there may be food in my house. Test me in this way," says the LORD of Armies. "See if I will not open the floodgates of heaven and pour out a blessing for you without measure. 11 I will rebuke the devourer, for you, so that it will not ruin the produce of your land and your vine in your field will not fail to produce fruit," says the LORD of Armies. 12 "Then all the nations will consider you fortunate, for you will be a delightful land," says the LORD of Armies.
Memory Section – Matthew 5:43-48 (CSB)
Matthew 5:43–48 (CSB)
LOVE YOUR ENEMIES
43 "You have heard that it was said, Love your neighbor, and hate your enemy. 44 But I tell you, love your enemies and pray for those who persecute you, 45 so that you may be children of your Father in heaven. For he causes his sun to rise on the evil and the good, and sends rain on the righteous and the unrighteous. 46 For if you love those who love you, what reward will you have? Don't even the tax collectors do the same? 47 And if you greet only your brothers and sisters, what are you doing out of the ordinary?, Don't even the Gentiles do the same? 48 Be perfect, therefore, as your heavenly Father is perfect.
Prayer & Fasting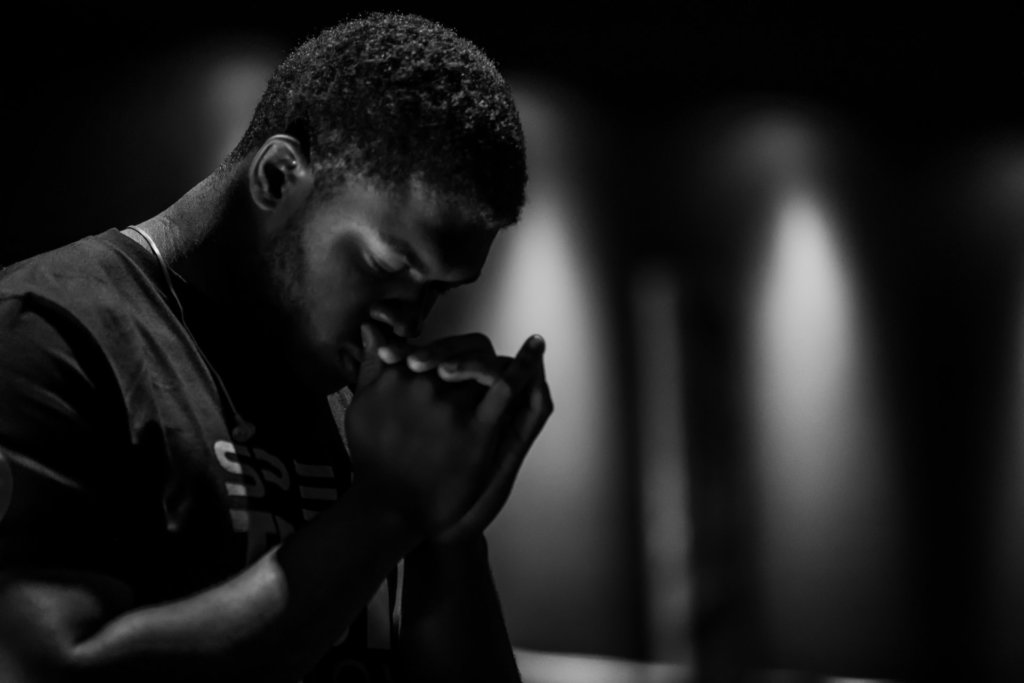 Photo by Jack Sharp on Unsplash
Prayer brings you closer to God, but fasting brings God closer to you and enables Him to move freely in you and through you.

– Morris Cerullo
Back in May, we started talking about Fasting (…Make Room For The New Life Now!) We took a look in Mark 2:18-22 when Jesus said His disciples would fast.
He gives two examples to reveal that fasting opens up space for God to work on, in, and through us. As we looked at fasting we started with the types. Let's review them.
Types of Fasts
There are several types of fasts that I will list below. This will give you an idea of what it would take to fast.
Here is an article from the C.S. Lewis Institute – The Place of Fasting in the Christian Life. It gives you a good overview of the topic.
Fasting requires a certain level of physical health, and it is recommended that you check with your doctor if you're doing a fast that lasts more than a few days in a row.
1. Complete Fast
A complete fast is when you abstain from food and drink for twenty-four consecutive hours or more. Some examples from Scripture can be found in Acts 9:9, and Esther 4:15-16, just to name a few.
2. Major Fast
A major fast is when you abstain from food for twenty-four consecutive hours or more.
3. Minor Fast
In a minor fast, you choose to abstain from food for a certain period of time (i.e. 6 a.m. to 3 p.m. or sunup to sundown). This fast is sometimes called a "Jewish fast," and it can last for days at a time, eating only at a set time of the day. In a minor fast, most people will drink liquids during the day and have one small meal after sundown each evening.
4. Partial Fast
A partial fast is when you give up only certain foods during the course of your fast. We see this in the book of Daniel, where Daniel abstains from certain foods out of devotion to God for a period of time. During a partial fast, some people choose to give up certain foods they enjoy in an effort to turn their hearts toward God.
5. Soul Fast
Biblical fasting, in the technical sense, refers only to abstaining from food or drink for a spiritual purpose. However, some choose a fast from other things to focus on prayer (i.e. videos, social media, etc.).
Barriers to Fasting
There are barriers to fasting that we should be aware of. These are some of the things that will stop you from using this powerful tool.
1. Desire for Self Sufficiency
This desire revolves around our wanting independence. This can be a good thing if kept in perspective of our dependence on God.
If it spirals out of control and becomes all about "me" we start to have a problem. The things we desire to experience with God get lost.
Fasting can confront the things you have been taught about self-sufficiency. It forces us to admit that we are not independent and reminds us that our whole being needs God.
Let me say that again. Our whole being needs God. Fasting reminds us we need Him more than food, more than our rights, more than life…
2. Hunger for Worldly Pleasures
This barrier relates to the grip that the world has on our hearts. Do we really want all that the world can give us in comparison to all that God has promised us?
Fasting loosens the grip from the things of this life and helps us recalibrate. Till we recognize this hold, we will struggle to see the need for fasting.
3. A Bent Toward Self-Gratification
The culture tells us we can have what we want, when and how we want it. Fasting is in opposition because it is about humbling yourself before God. In other words, it is about self-denial instead of self-gratification.
4. Humanism
This ideology has crept into the Church. It is seen when self is valued above God.
In this view, humans are seen as undeniably good and their needs are most important. They don't see themselves as sinners in need of God, but self-made people who use a divine life coach.
5. Undisciplined Living
Our failure to step into a life of prayer and fasting is not necessarily a lack of desire, but a lack of discipline. To embrace a life of fasting is not just about drawing closer to God or battling spiritual forces. We need to confront the natural forces of commitment and follow-through.
(18) Without revelation people run wild, but one who follows divine instruction will be happy.

– Proverbs 29:18 CSB
6. A Lack of Vision
This last barrier between you and a more satisfying life of prayer and fasting is a lack of biblical vision. "Without revelation, people run wild…" If you can't see the results of what the breakthrough will bring, there is no willingness to overcome these barriers.
The Breakthroughs Fasting Can Bring
It is important to see that these barriers can keep us from stepping into prayer and fasting. Even more crucial is to see what could result from breaking through.
This isn't a formula. I'm not guaranteeing that we will experience the breakthroughs that we want. However, we will experience the breakthrough God desires for us. So here are some of the possibilities.
1 A Deeper Friendship with God (Psalm 42 CSB)
Fasting helps us develop our relationship with God. This is the aim of any spiritual practice, increased intimacy.
We should be pursuing God not because we think He is a means to an end, but because He is wonderful.
2. Renewed Hunger for the Things of God (John 6:27 CSB)
Blessed are those who hunger and thirst for righteousness, for they will be filled

-Matthew 5:6 CSB)
We have to want the things of God to pursue them. Fasting will bring this about.
We talked about the barrier of the pleasures of this world. Fasting not only loosens our grip on these things, but the world's grip on us. It allows us to follow God in a greater way.
3. Training in Self-Denial (Mark 8:34 CSB)
Self-denial isn't about being miserable for God, it is about making space for more of God. It's a natural response when, in our heart, we start to believe that Jesus knows what is best for us now and forever.
Fasting helps us to transform. We change in our thinking and then our living.
4. Intimacy, Security, and Strength (Luke 4:1-14 CSB)
There is a connection between intimacy, security, and strength in relation to prayer and fasting. In Luke 4, Jesus experienced intimacy with His Father through the Spirit.
The fullness of the Spirit made Him secure in His identity as God's Son. Through this filling and the experience He had through fasting and temptation, He began to walk in strength and power.
(1) Then Jesus left the Jordan, full of the Holy Spirit, and was led by the Spirit in the wilderness (2) for forty days to be tempted by the devil. He ate nothing during those days, and when they were over, he was hungry. … (14) Then Jesus returned to Galilee in the power of the Spirit, and news about him spread throughout the entire vicinity.

– Luke 4:1-2, 14 CSB
5. Clarity in Prayer (Daniel 10 CSB and Isaiah 58:6-9 CSB)
This breakthrough often comes as answered prayer. Daniel received his answer in a season of fasting in Daniel 10. Refreshing and clarity can also accompany these seasons.
In many cases prayer and fasting will open our spiritual eyes and ears as well as our hearts to more fully receive God's answers.
6. Humility for Revival (2 Chronicles 7:14 CSB)
Humility draws the presence of God (Psalm 34:8 CSB). And fasting is a way to bring us low and into a proper position.
We become more aware of our sin and our deep need for God. When we become desperate for God, we become vessels for revival.
7. Freedom from Demonic Strongholds (Mark 9:29)
Prayer and fasting can break demonic strongholds, allowing people to experience freedom. Mark 9 gives us a great example.
Jesus had already given His disciples the power to heal and authority over devils. But this was one situation they were unable to have victory.
The boy's father brings him to Jesus and Jesus sets him free. The disciples are perplexed and ask Jesus for understanding.
"This kind only comes out by prayer and fasting.", Jesus tells them. Spiritual battles will sometimes require us to come into a deeper relationship with the Father to win the battle.
Prayer and fasting can bring us into this breakthrough.
Next Steps
As we come into the Feast of Trumpets (Days of Awe), we have a unique opportunity to change our course and the course of our nation. We are to be ministers.
God has equipped us with His armor (truth, the gospel, righteousness, the Word of God, faith, salvation). He has given us the tools of prayer and fasting to draw close to Him and He to us.
He wants nothing more for us than to abide in Him (John 17:21 CSB). We are to be one with the God of signs, wonders, and miracles.
We need to do a few things in this season of the Feast of Trumpets to prepare our hearts for Him and intercede for the nation.
Fast
Pray
Listen
Repent
14 and my people, who bear my name, humble themselves, pray and seek my face, and turn from their evil ways, then I will hear from heaven, forgive their sin, and heal their land.

– 2 Chronicles 7:14 (CSB)