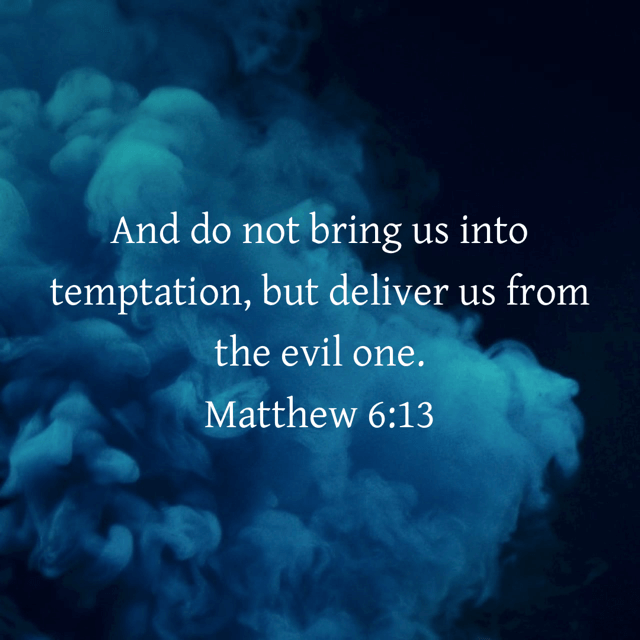 Introduction
There are many Christians that are being snared by the temptations of the flesh. They are bound by habits that they cannot break.
Some have been deceived by the enemy into believing that they have no control over their will. They yield to temptations and say, "I just couldn't help myself."
The truth is every believer, weak or strong, has the power to overcome every temptation. When you expose Satan's strategy to tempt, you will know how to position yourself for victory.
Satan's Power Is Limited
Do you remember when Satan accused God of protecting Job? He claimed that Job would curse God if God would allow him to mess with Job's stuff. God set some limits on what Satan could do to Job.
Job 1:12 (CSB)
12 "Very well," the Lord told Satan, "everything he owns is in your power. However, do not lay a hand on Job himself." So Satan left the Lord's presence.
The same is true today. Satan cannot do anything he wants. He can only do what God allows him to do. He cannot make you use your will to sin. He can seduce, entice, lure and deceive you, but he cannot make you sin.
Satan wants access to your mind to cause you to sin. If he can get you to dwell on things that are the works of the flesh, he has done his job. What you think about, matters.
James 1:12–15 (CSB)
12 Blessed is the one who endures trials, because when he has stood the test he will receive the crown of life that God has promised to those who love him.
13 No one undergoing a trial should say, "I am being tempted by God," since God is not tempted by evil, and he himself doesn't tempt anyone. 14 But each person is tempted when he is drawn away and enticed by his own evil desire. 15 Then after desire has conceived, it gives birth to sin, and when sin is fully grown, it gives birth to death.
We Are Called to Overcome
There is no trial or temptation too great that Satan can use to destroy you… IF you face him from a position of knowing.
Jesus destroyed all the works of the devil. The power of sin that ruled over our wills and held us captive has been removed.
God has placed the Spirit of His Son within us. We are FREE!
Romans 8:2 (CSB)
2 because the law of the Spirit of life in Christ Jesus has set you free from the law of sin and death.
Only you can decide how to use your will. That is why you must do the following:
Detect the things that make you stray from God's path.
Protect your heart and mind by filling it with God's word and putting on His spiritual armor.
Act by submitting to God and resisting Satan's attacks. Remove every attitude and sin that hinders you from walking in God's way. Remember, you are a new creation in Christ Jesus.
How Does Satan Get a Foothold?
There is a progression in our straying from God's purpose. It is when we allow our heart and mind to be filled with impure thoughts and evil desires. Once we entertain these, we have already sinned.
Satan's strategy is to lead us down the wrong path. It looks something like this.
Satan baits us by putting some form of temptation in our way. It arouses a desire within us.
We are tempted when we are drawn away and enticed by our own evil desires.
Sin is realized when we choose to entertain these thoughts and yield our will to them.
Sin is then manifested through our actions.
Sin brings death.
Satan tries to gain access through what we hear and see. You could call these gates. The ear gate is those things we listen to. The eye gate is those things we look at.
Timing is an important aspect as well. There are times when we let our guard down. What would some examples look like?
When you are tired.
When things are going well and you get careless on disciplining yourself to spend time in God's presence.
After a victory and you "deserve" to relax.
Let's take a look at King David.
2 Samuel 11:1–2 (CSB)
11 In the spring when kings march out to war, David sent Joab with his officers and all Israel. They destroyed the Ammonites and besieged Rabbah, but David remained in Jerusalem.
2 One evening David got up from his bed and strolled around on the roof of the palace. From the roof he saw a woman bathing—a very beautiful woman.
God didn't tempt David. He was drawn by his own carnal desires. He let his guard down. He was not seeking the Lord. Satan helped plant thoughts that appealed to three areas.
Lust of the eyes.
Lust of the flesh.
Pride of life.
I think we can see all three of these in David's example.
You have heard some say that it is OK to look, but not touch. Is that true? Is that what Jesus taught?
Matthew 5:28–29 (CSB)
28 But I tell you, everyone who looks at a woman lustfully has already committed adultery with her in his heart. 29 If your right eye causes you to sin, gouge it out and throw it away. For it is better that you lose one of the parts of your body than for your whole body to be thrown into hell.
Do not let Satan deceive you. Sin is conceived in the heart and mind.
You Can Walk In 100% Victory
God has provided a way for you to walk through every trial and temptation. Here are four things that will keep you strong on the journey.
1. Know that God will not allow Satan to tempt or test you above what you can bear.
1 Corinthians 10:13 (CSB)
13 No temptation has come upon you except what is common to humanity. But God is faithful; he will not allow you to be tempted beyond what you are able, but with the temptation he will also provide the way out so that you may be able to bear it.
God has promised a way out of every temptation. Through it, you will be strong, powerful, and able to patiently bear it.
2. Resist any attack of Satan to gain access into your mind through the eye gate and ear gate.
Be on guard. Do not deceive yourself thinking you could never be tempted or deceived and fall into sin. Do not let your guard down.
1 Corinthians 10:12 (CSB)
12 So, whoever thinks he stands must be careful not to fall.
Watch for any trace of Satan trying to access your mind. The moment you feel yourself being enticed and the stirring up of carnal desires, recognize it as temptation. Resist it!
3. Protect your heart and mind from Satan's temptations.
Evaluate what you are letting into your mind. Things that stir up lusts and desires of the flesh, get rid of them. If you don't deal with them and eradicate them they will be a constant hindrance in your fight against temptation.
1 Peter 2:11 (CSB)
11 Dear friends, I urge you as strangers and exiles to abstain from sinful desires that wage war against the soul.
Listen to the Psalmist.
Psalm 101:3 (CSB)
3 I will not let anything worthless guide me.
I hate the practice of transgression;
it will not cling to me.
4. Believe that God is faithful and will deliver you out of every temptation.
2 Peter 2:9 (CSB)
9 then the Lord knows how to rescue the godly from trials and to keep the unrighteous under punishment for the day of judgment,

2 Thessalonians 3:3 (CSB)
3 But the Lord is faithful; he will strengthen you and guard you from the evil one.

Matthew 26:41 (CSB)
41 Stay awake and pray, so that you won't enter into temptation. The spirit is willing, but the flesh is weak."

James 4:7–8 (CSB)
7 Therefore, submit to God. Resist the devil, and he will flee from you. 8 Draw near to God, and he will draw near to you. Cleanse your hands, sinners, and purify your hearts, you double-minded.
Conclusion
James 1:2–3 (CSB)
2 Consider it a great joy, my brothers and sisters, whenever you experience various trials, 3 because you know that the testing of your faith produces endurance.
When you know the strategies of the enemy, you can begin to learn how to fight the good fight of faith. James' words will make more sense as you do, and you will have more joy on your journey.
Some closing thoughts.
What are you letting in?
There is a wide range of things we take in.
TV, movies
Websites, social media
Magazines, books
Music, radio, podcasts
Conversations
Relationships
What are you feeding the most?
Out of all of these, what ratio revolves around God's word, worship, and talking about the good news of Jesus Christ?
Did you need to make a little adjustment?
One degree of change in what you allow to come through the ear and eye gate will change your trajectory. When we move toward God He moves toward us. And growing closer to God will change your destiny.