Announcements
Meetings
Sunday Morning – 10:00 AM.
Sunday Night – 5:00 PM.
Monday @ 9:00 AM Elder and Deacon Meeting
Thursday Night Bible Study – Online @ 7:00 PM.
Tithes and Offerings
There is an Offering button in the giving section below as well as on the Home Page upper left corner.
You can also mail your gifts to LSF – PO Box 103 – Warrens, WI 54666
Quarterly Business Meeting – 2020 Q3 – Follow Up
Capaul's stopped out. It will take 2-4 hours to fix. Should be scheduled in the next week.
Closet items are being moved back in.
Song
Giving
2 Corinthians 9:6-8 (CSB)
6 The point is this: The person who sows sparingly will also reap sparingly, and the person who sows generously will also reap generously. 7 Each person should do as he has decided in his heart—not reluctantly or out of compulsion, since God loves a cheerful giver. 8 And God is able to make every grace overflow to you, so that in every way, always having everything you need, you may excel in every good work.
Scripture
Memory Verse
Matthew 5:38 (CSB)
GO THE SECOND MILE
38 "You have heard that it was said, An eye for an eye and a tooth for a tooth.
Memory Section – Matthew 5:38–42
Matthew 5:38–42 (CSB)
GO THE SECOND MILE
38 "You have heard that it was said, An eye for an eye and a tooth for a tooth. 39 But I tell you, don't resist an evildoer. On the contrary, if anyone slaps you on your right cheek, turn the other to him also. 40 As for the one who wants to sue you and take away your shirt, let him have your coat as well. 41 And if anyone forces you to go one mile, go with him two. 42 Give to the one who asks you, and don't turn away from the one who wants to borrow from you.
It Is Important For You To Understand The Baptism in the Holy Spirit, NOW!
So let us stop going over the basic teachings about Christ again and again. Let us go on instead and become mature in our understanding. Surely we don't need to start again with the fundamental importance of repenting from evil deeds and placing our faith in God. 2 You don't need further instruction about baptisms, the laying on of hands, the resurrection of the dead, and eternal judgment. 3 And so, God willing, we will move forward to further understanding.

– Hebrews 6:1–3 (NLT)
The writer of Hebrews was concerned for believers and their level of maturity. In fact he said he had a great deal to say about it.
But this was difficult for him because they had become too lazy to understand. He went on to say that by now they should be teachers, but instead, they needed someone to teach them the basic principles of God's word.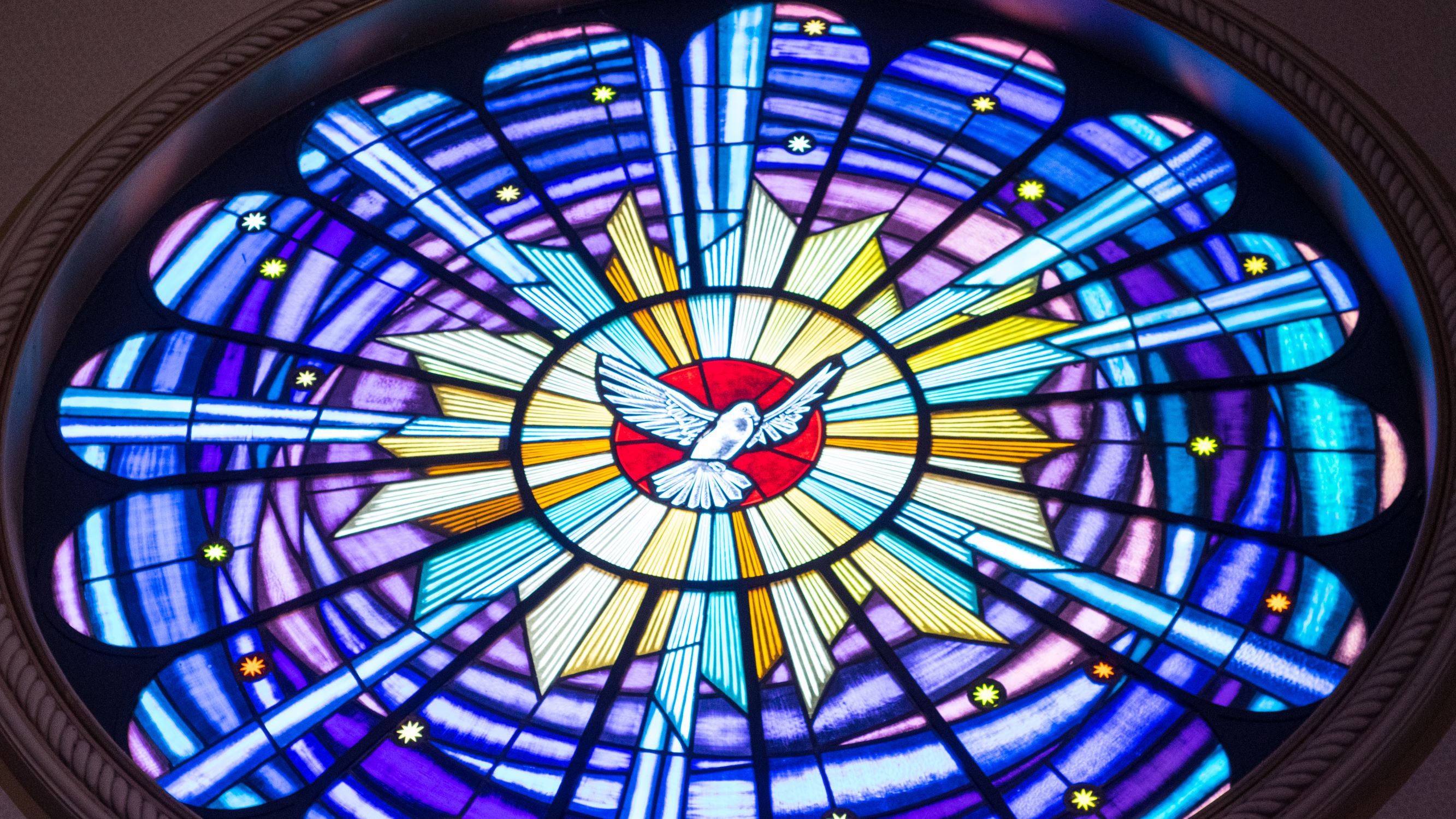 How does that happen? Is it because we have lost our first love like the Church at Ephesus (Rev 2:4)? Is it that we are the walking dead like the Church in Sardis (Rev 3:1)?
Maybe it is that we have stopped at salvation, thinking that it was an end in itself. Maybe as we were baptized into the Body of Christ we thought we were done.
Are spiritual disciplines enough? Maybe the better question is have you received power? Power to witness, the power to minister, the power to live Christ's life for Him.
How far do you want to go with God? This power only comes through the Holy Spirit.
I am working in you… but are you working in Me?

– Holy Spirit
So this past week I felt the Holy Spirit impress me with this thought. I am working in you… but are you working in Me?
Let me briefly describe the Holy Spirit's work in us. We are indwelt at salvation. In other words we are born again by the Spirit.
We are filled by the Spirit as we yield to His sanctifying work in us. We cooperate with Him to renew our minds so that we have the mind of Christ. This filling happens in our spiritual disciplines as we pursue Christ.
The last layer is when His presence fills the room. At this point, He is on us in power. This is where we are working in Him.
These are layers of Holy Spirit's work in us. He is a person, part of the Godhead.
Why do I say this? Because every believer must be baptized into the Body of Christ in the name of the Father, in the name of the Son, and in the name of the Holy Spirit (Matt 28:19-20).
Holy Spirit is not referred to as it. He is referred to as He. So while this message is related to Holy Spirit and baptisms, it might be better to describe it as our relationship to Holy Spirit.
12 "There is so much more I want to tell you, but you can't bear it now. 13 When the Spirit of truth comes, he will guide you into all truth. He will not speak on his own but will tell you what he has heard. He will tell you about the future. 14 He will bring me glory by telling you whatever he receives from me. 15 All that belongs to the Father is mine; this is why I said, 'The Spirit will tell you whatever he receives from me.'

– John 16:12–15 (NLT)
If we are to receive our marching orders from Jesus we must allow the Holy Spirit to speak to us. In other words, we must be open to hearing from Him, so that we can live out Christ's life for Him.
What is the Baptism of the Holy Spirit?
This baptism brings the believer into the realm of the unlimited and measureless power of God to do the work of Christ.
12 "Truly I tell you, the one who believes in me will also do the works that I do. And he will do even greater works than these, because I am going to the Father.

– John 14:12 (CSB)
Let that sink in. The one who believes will also do the works that I do…
5 for John baptized with water, but you will be baptized with the Holy Spirit in a few days."

– Acts 1:5 (CSB)
4 Then they were all filled with the Holy Spirit and began to speak in different tongues, as the Spirit enabled them.

– Acts 2:4 (CSB)
Did you want to speak in other tongues?
In The Lion, the Witch and the Wardrobe there is a discussion that takes place with Mr. Beaver. Mr. Beaver tells the children,
"They say Aslan is on the move—perhaps has already landed." And now a very curious thing happened. None of the children knew who Aslan was any more than you do; but the moment the Beaver had spoken these words everyone felt quite different. Perhaps it has sometimes happened to you in a dream that someone says something which you don't understand but in the dream it feels as if it had some enormous meaning—either a terrifying one which turns the whole dream into a nightmare or else a lovely meaning too lovely to put into words, which makes the dream so beautiful that you remember it all your life and are always wishing you could get into that dream again. It was like that now. At the name of Aslan each one of the children felt something jump in its inside. Edmund felt a sensation of mysterious horror. Peter felt suddenly brave and adventurous. Susan felt as if some delicious smell or some delightful strain of music had just floated by her. And Lucy got the feeling you have when you wake up in the morning and realize that it is the beginning of the holidays or the beginning of summer.

– Lewis, C. S.. The Chronicles of Narnia Complete 7-Book Collection (Kindle Locations 3061-3070). HarperCollins. Kindle Edition.
When I ask, "Do you want to speak in tongues?" What goes on inside of you? Why do you think that is?
What took place at Pentecost?
The Holy Spirit came upon them. He came in like a mighty rushing wind. But this was and is not the only occurrence. While Peter shared the good news with the house of Cornelius, the Holy Spirit showed up.
He came upon them.
44 While Peter was still speaking these words, the Holy Spirit came down on all those who heard the message.

– Acts 10:44 (CSB)
He spoke through them.
46 For they heard them speaking in tongues and declaring the greatness of God.

– Acts 10:46 (CSB)
This baptism came just as Jesus had spoken.
16 I remembered the word of the Lord, how he said, 'John baptized with water, but you will be baptized with the Holy Spirit.'

– Acts 11:16 (CSB)
Later John's disciples experienced this same baptism.
5 When they heard this, they were baptized into the name of the Lord Jesus.

– Acts 19:5 (CSB)
If you continue reading you will see that when Paul laid his hands on them, the Holy Spirit came on them and they spoke in tongues and prophesied.
What are four things one is baptized into?
We are baptized into God's love.
5 This hope will not disappoint us, because God's love has been poured out in our hearts through the Holy Spirit who was given to us.

– Romans 5:5 (CSB)
As we are filled with the Holy Spirit we are filled with joy.
52 And the disciples were filled with joy and the Holy Spirit.

– Acts 13:52 (CSB)
We receive eternal life.
14 But whoever drinks from the water that I will give him will never get thirsty again. In fact, the water I will give him will become a well, of water springing up in him for eternal life."

– John 4:14 (CSB)
We receive power as the Holy Spirit comes on us.
8 But you will receive power when the Holy Spirit has come on you, and you will be my witnesses in Jerusalem, in all Judea and Samaria, and to the ends of the earth."

– Acts 1:8 (CSB)
Why is this so important?
The unity that Christ wants for His Church is not man-made. Unity in the Body of Christ comes through the Holy Spirit. As He abides in us and we abide in Him. We get our unity by being unified in the Spirit.
21 May they all be one, as you, Father, are in me and I am in you. May they also be in us, so that the world may believe you sent me. 22 I have given them the glory you have given me, so that they may be one as we are one. 23 I am in them and you are in me, so that they may be made completely one, that the world may know you have sent me and have loved them as you have loved me.

– John 17:21–23 (CSB)
Jesus wants to knit us together in His Holy Spirit. As we abide in Him, His love will manifest itself and show the world that we are His disciples.
Next Steps
So where are you in your walk with Christ? Are you indwelt through salvation? Are you pursuing Christ so that you are filled? Are you entering into His presence where He is on you in power?
God wants to bring you into an experience with Him. He wants you to be His witness. Enter in today!
For more on the Unity in the Spirit check out this PAGE.