Announcements
Meetings
Sunday Morning – 10:00 AM.
Sunday Night – 5:00 PM.
Thursday Night Bible Study – Hybrid @ 6:00 PM.
Tithes and Offerings
You can give in several ways:
There is an Offering button in the giving section below as well as on the Home Page upper left corner.
You can also mail your gifts to LSF – PO Box 103 – Warrens, WI 54666
Memory Section – Matthew 6:1-4 (CSB)
How to Give
1 "Be careful not to practice your righteousness in front of others to be seen by them. Otherwise, you have no reward with your Father in heaven. 2 So whenever you give to the poor, don't sound a trumpet before you, as the hypocrites do in the synagogues and on the streets, to be applauded by people. Truly I tell you, they have their reward. 3 But when you give to the poor, don't let your left hand know what your right hand is doing, 4 so that your giving may be in secret. And your Father who sees in secret will reward you.
Giving
(38) "Give, and it will be given to you; a good measure ​– ​pressed down, shaken together, and running over ​– ​will be poured into your lap. For with the measure you use, it will be measured back to you."

– Luke 6:38 CSB
Frontline Warriors
It is time to take what the Lord showed us as we spent time in prayer and fasting. It is time to step out in faith and serve the Body of Christ in Warrens.
Vision
Here's what I want us to do… (words of prophesy bolded)
Shift our weekly meeting from Sunday morning to Friday evening.
Shift our focus to becoming more missional.
Equip the Body of Christ for ministry and warfare.
Change up our approach to move from consumerism to missional living.
Here's why…
Our mission is to Build Up the Body of Christ.
This includes those that believe and those about to.
Friday nights allow believers from other churches to participate.
This opens Sundays to be missional, applying what we have learned.
It has the potential to create opportunities for us to work together with the larger Body of Christ in Warrens for Warrens.
Paul planted churches over cities, not buildings.
Our culture is changing, and we need to allow God to teach us how to walk in His way in the changing context (New thing – walk in what I teach).
Here's what it will take…
The commitment of the members to meet on Friday evenings (move to Friday, He'll meet us)..
The commitment of the members to become more missional by:

Attending another local church on Sunday with conversations on Friday's topic to gain insight.
Going to another person's house or inviting them to yours and sharing what we covered to gain insight.
Through these conversations, we can practice our listening skills and gospel fluency.
As opportunity arises we can minister to our brothers and sisters.

Learning to live in the presence of God.
As we move, He meets us. – (20) And they went out and preached everywhere, while the Lord worked with them and confirmed the word by the accompanying signs.] – Mark 16:20 CSB
He will confirm with signs, wonders, and miracles.
Move out and gather the scattered sheep.
Support team for the mission of serving the Body of Christ (others [hungry] will join in we don't know of)
Darin this is what you are called to do.
This is My deal.
History –

WorshipMob visit – enter God's presence on Friday nights.
Sensing a change in the structure of the Church for over a decade.
Results
Here are the milestones…
Shift Sunday to Friday the first Friday of November. [11/6/2020]
After Action Review at QBM for Q1 2021. [12/18/2020]
Here's what we should see…
We are more missional in our walk.
We are increasing our ministry with other believers in Warrens.
We see God move.
What is the Gospel?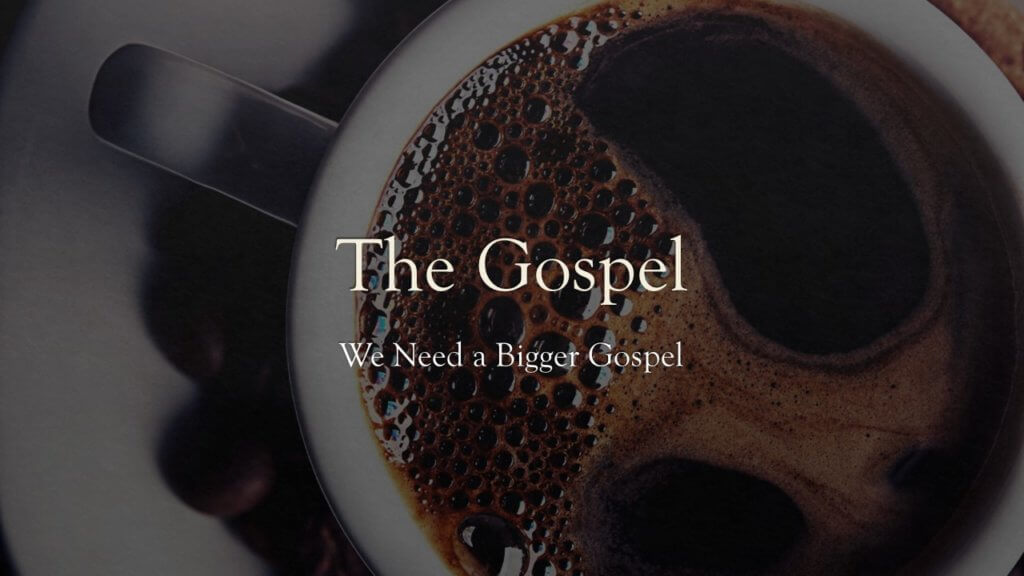 This is a question that we all think we understand. But like the four blind men describing an elephant we each have varying perspectives of what it is.
The truth is it has many parts. Your perspective will be focused on your need. That's okay, but we need to realize that we need a bigger gospel.
I don't say that meaning a different gospel. I'm saying that the gospel is so much more than we can focus on at once.
We must look at it from different perspectives. We will be covering the power, the purpose, and the plan of the gospel to get handles on the overview of what God has done.
In essence, the gospel is the rescue of creation by God Himself.
The gospel is that God himself has come to rescue and renew creation in and through the work of Jesus Christ on our behalf.

– Tim Keller
We see it in a personal way through evangelism. There are multiple ways to "lead someone to the Lord."
Gospel tracks have been used for decades to show that it is possible to have a relationship with God. The Four Spiritual Laws and The Four are just a couple.
Living Waters Ministries has many as they take current cultural trends and create ways to share that God wants to know you personally. Here is the basic gospel presentation using The Four.
This is a basic gospel presentation. More of a western approach boiled down to four things that will change your life.
But it is only the beginning. There is so much more. There is a whole story behind this "how to know God" presentation.
This is a me-centered gospel. It is based on being freed from the power of Sin. Praise God that He has set us free!
The Power of the Gospel
(16) For I am not ashamed of the gospel, because it is the power of God for salvation to everyone who believes, first to the Jew, and also to the Greek.

– Romans 1:16 CSB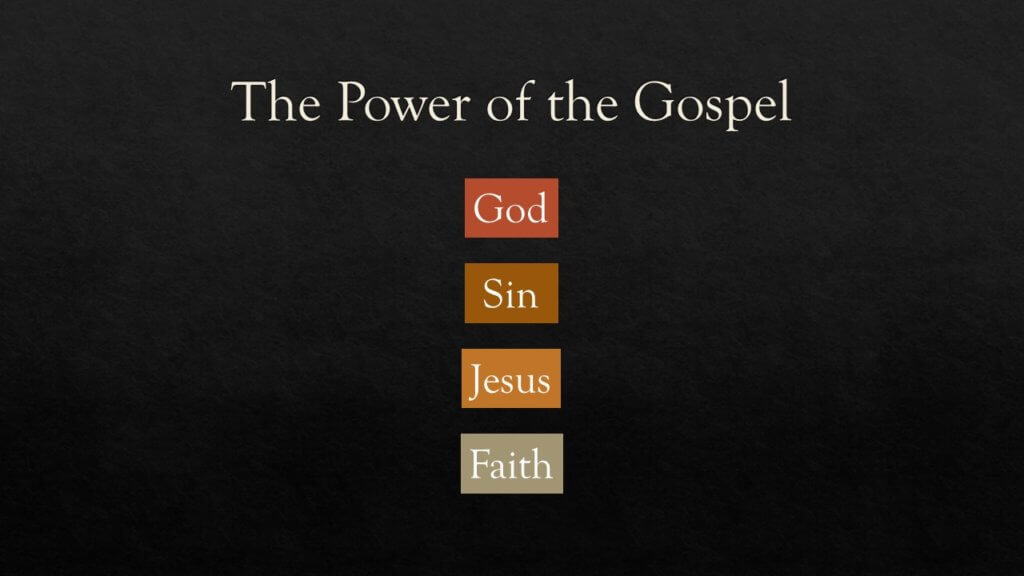 The Power of the gospel has four main topics.
God – He is eternal. He has always existed. He is all powerful. He has created all things. He is holy. He is completely set apart in His own category.
Sin – Humans have all sinned. None of us have measured up to His holy, perfect standard of life. We have all chosen a self-rule over and against God's rule.
Jesus – Jesus came, Himself God incarnate. He came to die as a substitute for the penalty of our sins. God accepted His sacrifice.
Faith – It is by faith alone that we receive this exchange (His righteousness for our sin). By faith and faith alone in what He did and we are saved from our sins.
The gospel frees us from three things. The penalty, the power, and the presence of sin.
Free from the Penalty of Sin
First, we must realize that we are being held captive by sin. We are under a death sentence.
We would like to think that it doesn't apply to us. Let me assure you, it does.
Who do you want to run your life? I'm guessing you didn't choose me.
This need for us to be independent of others, including God is what separates us from Him. We want to live life on our own terms and decide what is good and bad for ourselves.
We set ourselves on the throne of our own life… alone.
Paul tells the Romans –
(23) For all have sinned and fall short of the glory of God.

– Romans 3:23 CSB

(23) For the wages of sin is death, but the gift of God is eternal life in Christ Jesus our Lord.

– Romans 6:23 CSB
Praise the Lord! God has a rescue plan in place. This plan sets us free from the penalty of sin which is death.
When we come to a saving faith it changes our life. We believe in the work of Christ to rescue us.
Further, we believe that He is now living, raised from the dead. This faith is counted to us as righteousness. And by our own confession of Jesus as Lord, we are saved (Romans 10:9-10 CSB).
This process is known as justification. As we place Jesus on the throne of our life, He liberates us for His work. We have been set free from the penalty of sin.
Free from the Power of Sin
Sanctification is a lifelong process. This process is a work that the Holy Spirit does in our lives.
He shows us areas of unbelief in our lives so we can move to belief. What are we to believe? All that God has set up and spoken.
Sin no longer has power over us. The excuse of just being human is no longer true.
We are new creatures in Christ.
(17) Therefore, if anyone is in Christ, he is a new creation; the old has passed away, and see, the new has come!

– 2 Corinthians 5:17 CSB
While we have been set free from the penalty of sin, we are being set free from the power of sin. This is happening through the transforming power of the Holy Spirit.
Free from the Presence of Sin
Lastly, we are going to be set free from the very presence of sin. When all things are made new and God comes to dwell with His people, we will be free. This moves us into glorification.
This is good news!
We have been set free from the penalty of sin.
We are being set free from the power of sin.
We are going to be set free from the very presence of sin.
Being set free from the power of sin allows us to leave and live. We leave the notion of our being in control and submit to the Lordship of Christ. We then commit to live out His will for us.
Jesus said –
(15) Do not love the world or the things in the world. If anyone loves the world, the love of the Father is not in him. (16) For everything in the world ​– ​the lust of the flesh, the lust of the eyes, and the pride in one's possessions ​– ​is not from the Father, but is from the world. (17) And the world with its lust is passing away, but the one who does the will of God remains forever.

– 1 John 2:15-17 CSB
Next Week -The Purpose of the Gospel.
Activity
If I were to ask you, "What is the gospel?", what would you tell me?
Ask 1-3 people this week and post your findings in the comments below.