Announcements
Meetings
Sunday Morning – 10:00 AM.
Sunday Night – 5:00 PM.
Thursday Night – Online @ 7:00 PM.
Tithes and Offerings
There is an Offering button in the giving section below as well as on the Home Page upper left corner.
You can also mail your gifts to LSF – PO Box 103 – Warrens, WI 54666
Quarterly Business Meeting – 2020 Q3 – Follow Up
Capaul's stopped out. It will take 2-4 hours to fix. Should be scheduled in the next 2 weeks.
The basement closet is painted.
Guidelines for basement use have been written up.
Song
Giving
2 Corinthians 9:6-8 (CSB)
6 The point is this: The person who sows sparingly will also reap sparingly, and the person who sows generously will also reap generously. 7 Each person should do as he has decided in his heart—not reluctantly or out of compulsion, since God loves a cheerful giver. 8 And God is able to make every grace overflow to you, so that in every way, always having everything you need, you may excel in every good work.
Scripture
Memory Verse
Matthew 5:37 (CSB)
37 But let your 'yes' mean 'yes,' and your 'no' mean 'no.' Anything more than this is from the evil one.
Memory Section – Matthew 5:33-37
Matthew 5:33–37 (CSB)
TELL THE TRUTH
33 "Again, you have heard that it was said to our ancestors, You must not break your oath, but you must keep your oaths to the Lord. 34 But I tell you, don't take an oath at all: either by heaven, because it is God's throne; 35 or by the earth, because it is his footstool; or by Jerusalem, because it is the city of the great King. 36 Do not swear by your head, because you cannot make a single hair white or black. 37 But let your 'yes' mean 'yes,' and your 'no' mean 'no.' Anything more than this is from the evil one.
Christ Died Our Death For Us That We Might Live His Life For Him. Morris Cerullo – A Life Well Lived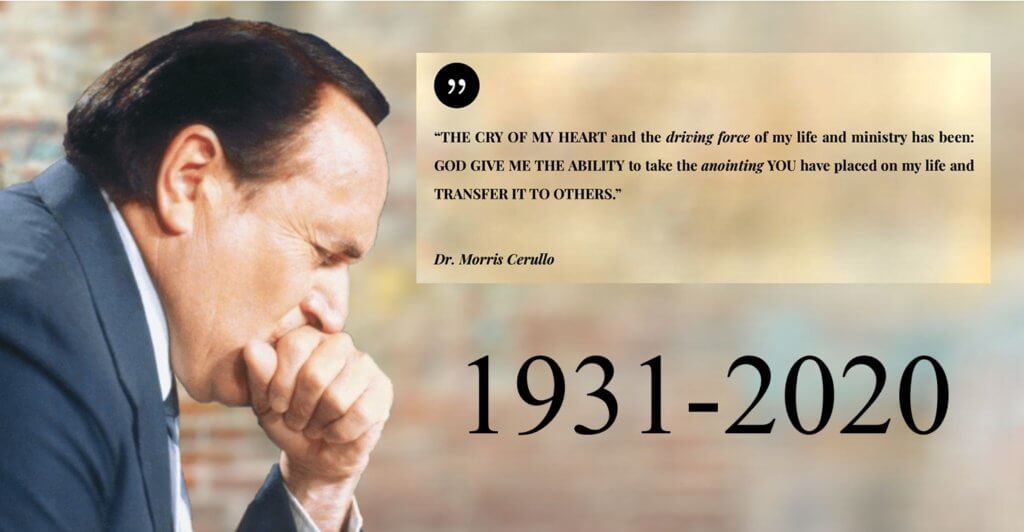 There are no words to express the loss of Morris Cerullo. A great voice for God has left the earth. He preached healing, deliverance and most importantly salvation to the nations of the world.
My first exposure to Morris Cerullo was in 1974 when my parents went to a meeting in Chicago Illinois. I really didn't know exactly what was happening, but there was an excitement when they came back.
Morris used to tell us as we came into his meetings, "You are not here by accident." and "You will not leave the same way you came in." He expected God to do a work in individuals as they yielded to the Holy Spirit.
I went to a few meetings with my father in the late 80's early 90's. I can remember one time being called up on stage with him as a Father-son example. There was a lesson in humility to be learned at the moment that I won't get into, but the Holy Spirit was at work.
In 1991 I became a member of God's Victorious Army. This was a way to support raising up nationals in the world to be trained to minister in their context.
Morris always had people from around the world giving testimony and telling what the Lord was doing in their lives, their ministries, and in the lives of those they touched. This was an encouragement as it showed that God was moving through the Holy Spirit in ordinary people, not just prophets like Morris.
Tiffany and I went to a School of Ministry on Labor Day for our honeymoon. We thought this was a great way to start our marriage correctly – focusing on the Lord.
In 2005 I went to the Online Institute of Ministerial Studies. After completing the course work I received my ordination in September at the Gaylord Resort in Grapevine Texas.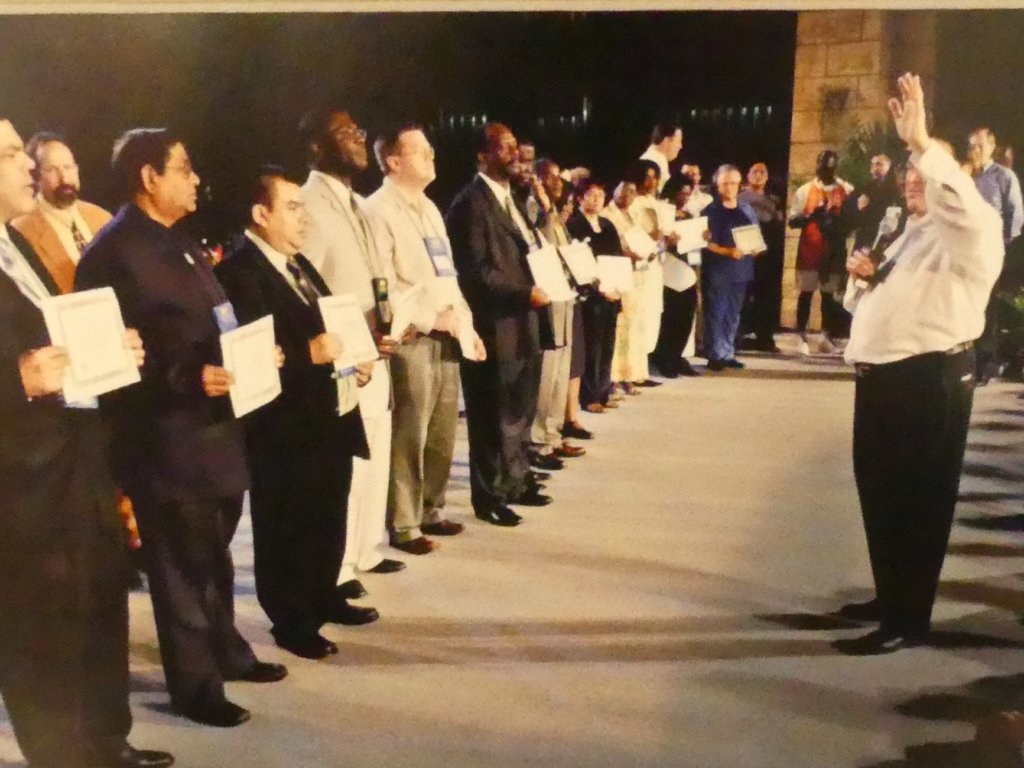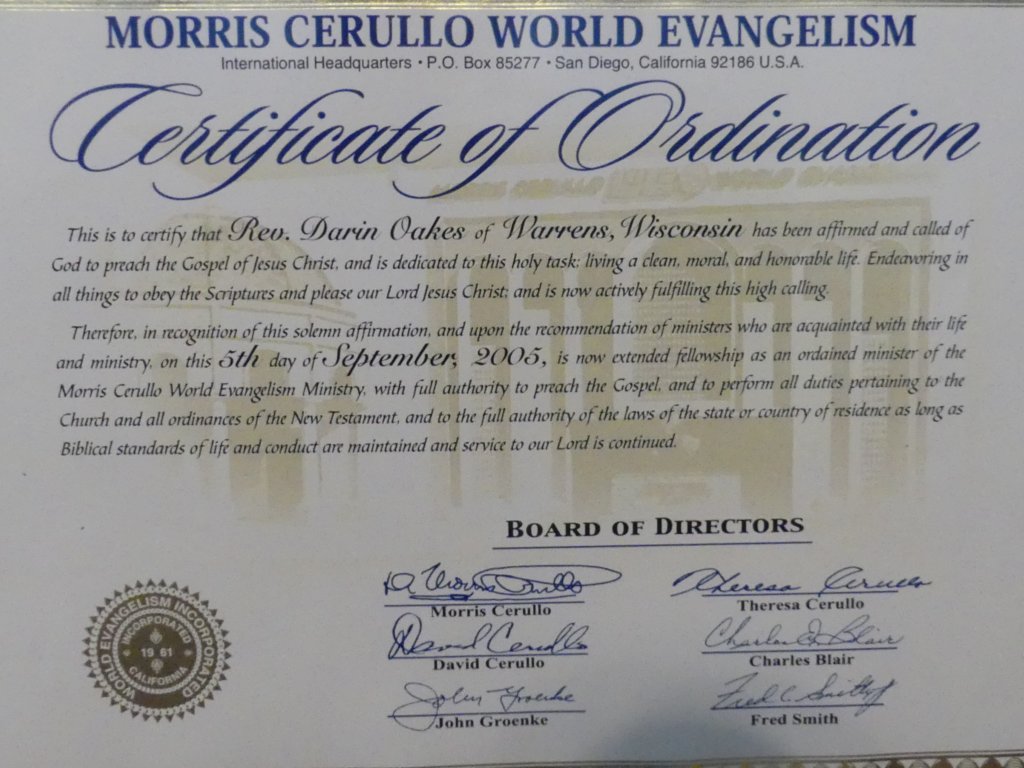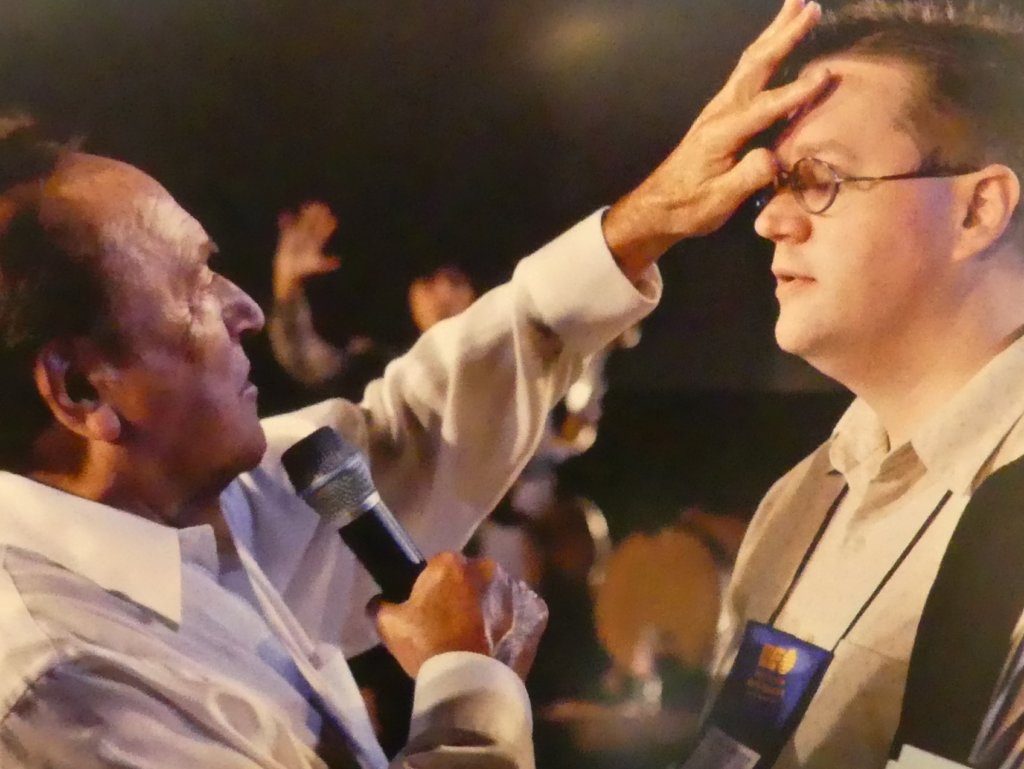 In 2013 Tiffany and I went to Israel with World Evangelism. I was resistant to go at first not enjoying long flights. But she so wanted to travel outside of the US and it was affordable that I consented to go (in my mind) for her.
In reflection, the long flight was worth the experience. I have a much deeper appreciation for the land. Traveling through Israel has given me perspective as I read the Scriptures.
While we were there in a service at one of the hotels we went up to be prayed for. I didn't know it was happening but it got caught on video. I'll share that below.
There was at least one other time Morris laid hands on me. He was like a loving Father as he prayed over me.
Morris ran a tight ship. At times he had fire in his eyes as he moved in the prophetic. And yet he operated in such love as well. He wasn't perfect, he suffered much, yet he chose to be a willing vessel for God's work.
He raised up millions of nationals throughout the world and is known by many as Papa. He faithfully served the Lord in ministry for 73 years. Morris did well at living Christ's life for Him. He is an example to us all.
Please keep Morris Cerullo World Evangelism as well as Teresa and the family in your prayers. May God's comfort, peace, and guidance be upon them.